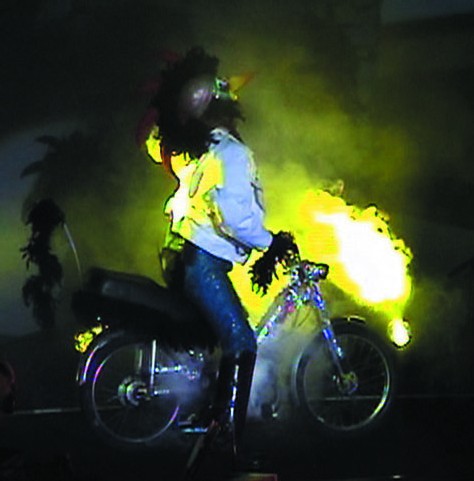 Un coq rock'n roll entouré de poulettes groupies, voilà de quoi remettre un conte traditionnel au goût du jour ! L'histoire, elle n'a pas changé, mais dans cette version, la vache est une ancienne vedette de la Costa Brava…

Entre concert et narration (presque) classique, les auteurs revitalisent un récit vieux de trois siècles, passé de génération en génération par le talent des conteurs populaires. L'Ogre est bien là, la tradition est donc respectée, juste un peu bousculée…

Et l'enfant, spectateur émerveillé, s'ouvre ainsi à différentes musiques -rock, rythmes cubains, swing ou gospel- et à l'humour débridé de personnages rocambolesques et décalés.

A rock'n roll rooster surrounded by a bevy of groupie chicks: that's the way to revisit a traditional tale ! The story hasn't changed but in this version the cow becomes an old star of the Costa Brava…

With a mixture of concert and (nearly) classical narrative the writers are reviving a three centuries old story which was passed on from generation to generation by talented popular storytellers. The ogre is present and tradition duly honoured, if only a little bit shaken up…

And the children, filled with wonder, become aware of different types of music: rock, Cuban rhythms, swing or gospel, and also of the unrestrained humour of incredibly funny characters.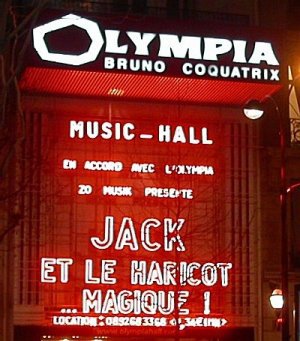 « Jack et le Haricot Magique » est devenu une véritable référence dans le domaine exigeant du spectacle pour enfants.

Il a été joué d'abord à l'Olympia, puis au Théâtre Montmartre-Michel Galabru, aux Déchargeurs et au Casino de Paris dans une mise en scène d'Oscar Sisto adaptée à la configuration des lieux.

Une nouvelle version a été présentée au Théâtre Le Temple dans une mise en scène de Philippe Manca qui renforçait l'esprit rock'n'roll du spectacle et s'inspirait de l'univers sombre et poétique du cinéaste Tim Burton. A l'Alhambra, cette dernière interprétation est renouvelée et enrichie sous la direction d'Andréa Castro.

Brochure TremoloProd