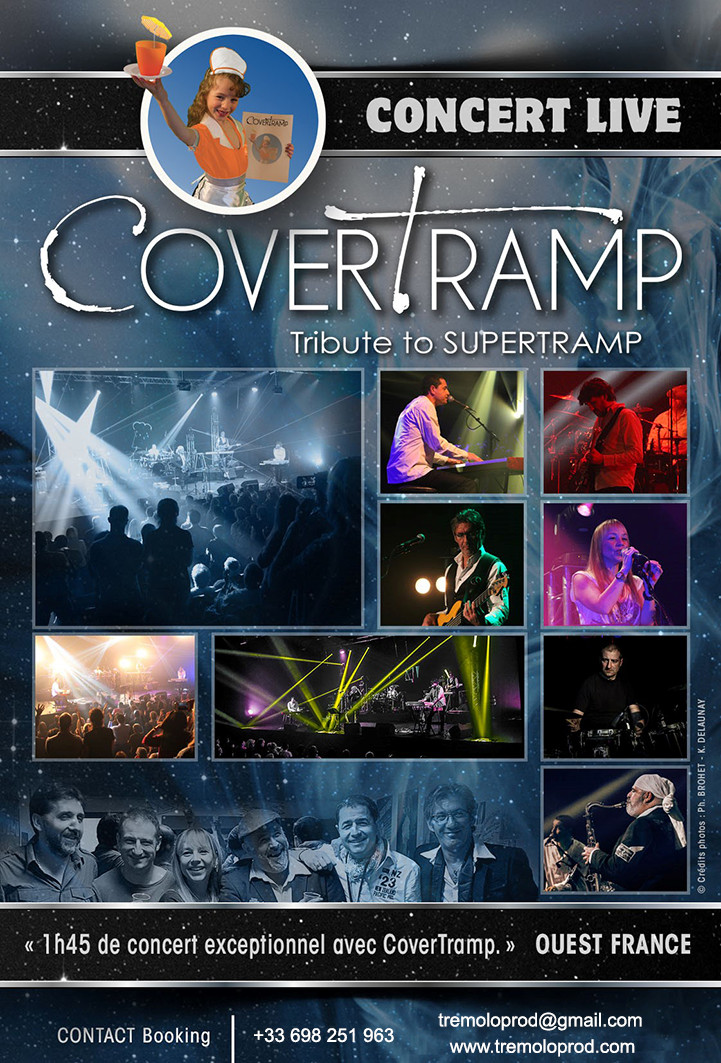 A group of professional musicians who transmit with passion and accuracy the wide set list of the famous british band.
A unique live show to pay homage to the mythic Supertramp, reminisce the most famous hits and enjoy long-forgotten treasures.
The band strikes for perfection, always paying attention to each and every detail to make the sound, the sense, the emotion just right.
After a full and intense year of labor, this 6 musicians strong group performs a 2 hours show featuring 25 songs like Breakfast in America, School, Goodbye Stranger, It's Raining Again and many others.
Let's share the very good moments together with passionate fans!
Un groupe de passionnés de Supertramp qui n'ont qu'un seul objectif : transmettre le plus fidèlement possible l'énergie et l'émotion du groupe mythique des 70's.
Réunis autour de
Philippe Tailleferd,
rendu célèbre par sa participation à la première saison de l'émission
The Voice
ainsi qu'à
Danse avec les stars
, les 6 musiciens multi-instrumentistes de
Covertramp
–éprouvant chacun la même passion pour la musique de
Supertramp
- se sont imposés le challenge d'interpréter des versions les plus proches possible des morceaux originaux afin que le public retrouve intacte l'émotion que suscite ce célèbre répertoire, et que le plaisir soit partagé.
Set list/Répertoire :
The logical song, Breakfast in america, School, Dreamer, Goodbye Stranger, Give a little bit, Crime of the century, Bloody well right, Rudy, Hide in your shell, Take the long way home, Lord is it mine, Fool's overture, Gone Hollywood, From now on, It's raining again, Don't leave me now...
Agenda Concerts
2021
- le 1 octobre : Le Cadran-Evreux (27)
- Le 30 octobre : Casino les Palmiers-Hyeres (83)
- Le 30 novembre : Théâtre - Denain (59)
2022
- Le 26 février : St Avold (57)
- Le 2 avril : Le vésinet (92)
- Le 14 mai : Jouy en Josas (78)
- Le 25 juin : Payerne (CH)
- Le 5 juillet : Arènes - Fréjus (83)
- Le 8 juillet : Kuursaal - Dunkerque (59)
- Le 27 Juillet: Théâtre de Verdure - Nice (06)


Ils ont également accueilli Covertramp :
Wissous, Sucy en Brie,Cergy, Hagondange, Arnouville, Montagny en Vexin, <B>Paris (Casino de Paris), Viry-Chatillon, Ugine, Dax(Féria de Dax), Garches, Saint-Arnoult en Yvelines, Saint-Thibault des Vignes, Roissy en France, Provins, St Fargeaux Ponthierry, Nemours, Puteaux, Dieppe, Le Mée sur Seine, Saint Marcel, Le Raincy, Paris (La Cigale), Denain, Bois d'Arcy, Saint Maximin, Chartres, Le Portel, Les Andelys, Langres, Orchies, La ferté saint Aubin, Epernon, Plaisir, Paris (Le Méridien), Hyeres, Rognac, Le Blanc Mesnil, Aubevoye, Château d'Olonne, Voulangis, Cogolin, Guingamp, Louvre, Binic, Buc, Mandelieu, Paray-vieille-poste, Villeparisis, Canet en Roussillon, Compiègne, Egly, Mennecy, Monceau-les-mines, Saint Paul en Chabelais, Bagnol sur Ceze, Ozoir la Ferrière, Is sur Tille, Nogent sur Seine, Villemomble, Marly la Ville...
Références musiciens :
The Voice, Dance avec les Stars (TF1), La Belle et la Bête (Mogador), Cabaret (Marigny), Sister Act (Mogador), Fame (Trianon), Zorro (Folies Bergères), Avenue Q (Bobino), Chimène Badi, Pigalle (groupe)...




The best European Supertramp tribute band.

Sans aucun doute, le meilleur Tribute Supertramp européen.