After paying a tribute to Gary Moore for nearly 2 years, Phil Manca releases his first "heavy blues rock" album "Signs".
Playlist :
01- BRAND NEW GAME 3:29
02- SIGNS 4:37
03- COLORBLIND 3:20
04- YER BLUES 5:00
05- LITTLE GIRL 2 :44
06- S.M.I.L.E 4:00
07- I LOVE TO LOVE YOU 2:15
08- HOT LITTLE MAMA 2:55
09- LAY BY MY SIDE 5:23
10- DOWN PAYMENT BLUES 7:15
All songs written by Frédérique Arguello/Phil Manca except 4 Lennon/McCartney . 5 Mayall . 7-8 Watson/Taub/Davis .
10 Young/Young/Scott
Credits :
Phil Manca –
Guitar/Backing vocals
David Jacob – Bass
Josselin "JJ" Jobard – Lead & Backing Vocals
Eric Lafont – Drums/Tambourine

Gilles Erhart – Hammond Organ/Piano/Clavinet
Freddy Derocles – Drums on 2
Loïc Landois – Lead Vocal on 2 & 7
Renaud Hantson – Lead Vocal on 6 & 9

All songs arranged by Phil Manca
Engineered by Yann Noel at MidiLive Studios
Mixed by Jean-Marc Hauser at Xplose Sound Lab
Mastered by Chris Danetz/Studio de la Relève
Produced by Phil Manca
© 2018 Tremolo Editions Production
℗ 2018 Tremolo Editions Productions/Xplose Music
See on CD back cover for publishers

Cover design - Mathilde Bouvelot
Video & photography - Giuliano Arguello

From his hard-rock roots in the early 80's (TNT) to his latest productions, Phil has always combined his talent as a guitarist and a song-writer.
While he has collaborated with many bands such as Sortilège (French metal band), Barbara Schenker, singer Renaud Hantson (Starmania/Tycoon), ERA's first album (6 million copies sold) and several film soundtracks ; he wrote and produced the rock-opera "Ypse" and the musical "Jack et le haricot magique" a successful rock musical for children inspired by the story of Jack and the beanstalk.

Today he's back to his musical roots, the music for what the electric guitar was created. Back to the blues!
PHIL MANCA "SIGNS" ALBUM CD/DIGITAL FORMAT LINKS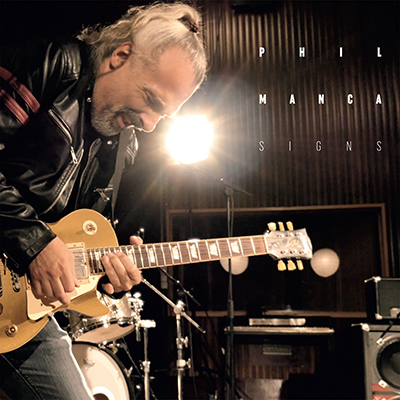 PHIL MANCA "SIGNS" ALBUM CD/DIGITAL FORMAT LINKS