After paying a tribute to Gary Moore for nearly 2 years, Phil Manca releases his first "heavy blues rock" album "Signs".
"Europe seems to have an affinity for hot shot blues rock guitarists and France's Phil Manca is the latest in a long line. If blues rock is your thing you just can't go wrong here. Phil Manca lays down a virtual guitar frenzy as a firm foundation for their songs. This is a blues rock keeper!"
"L'Europe semble avoir une affinité pour les guitaristes surdoués de blues rock, et le français Phil Manca est le dernier en date d'une longue lignée (…) Si vous aimez le blues rock, vous ne pouvez pas vous tromper ici. Les titres de Phil Manca sont solidement basés sur une véritable frénésie virtuelle de guitare. Une perle rare du blues rock." Bluesblast Magazine (USA)
(...) "Doté d'une production digne de ce nom, « Signs » a su éviter l'écueil souvent tendu aux guitaristes de rock qui s'essaient au blues et Phil Manca a su très astucieusement mener sa barque en ne livrant pas un succédané d'album de blues pompé sur ceux des grands noms du genre pour au contraire nous présenter un opus qui lui ressemble, un album qui correspond à sa propre vision du blues. Un album à poser sur la même étagère que les albums des Frères Young, d'Eric Gales ou encore de Ben Poole !" Zicazic (France)
(…)"Phil MANCA confirme son incandescente virtuosité sur le manche Gibson, que ce soit à la slide en piqué ou en loopings de sustain (…) Aussi à l'aise dans le registre high energy blues à la manière d'Albert Collins que dans celui du heavy-rock des seventies, Phil MANCA sait également s'entourer: la basse souple et ondulante de David Jacobs et le drumming à la fois fiévreux et précis d'Eric Lafont (ainsi que les claviers pertinents de Gilles Erhart) lui procurent le précieux soutien que requiert l'exercice. Avec pas moins de trois vocalistes en alternance, Phil peut ainsi donner libre cours à son tempérament éruptif sur les cordes électrifiées, et comme la prise de son leur rend justice, cette rondelle devrait chatouiller les tympans de nombre de guitar-heroes, confirmés ou en puissance. Feu d'artifice!" Paris Move (France)
"Now Phil Manca is promoting his album 'Signs'. In ten heavy blues rock songs he typifies his overwhelming style of music. (...) Blues, blues rock and some heavenly ballads find their way through our woofer. This is handsome blues rock! Who puts this band on our festivals ?..."
"Maintenant, Phil Manca fait la promotion de son album "Signs"avec dix chansons de « heavy blues rock » qui caractérise son style de musique irrésistible. (...) Du blues, du blues rock et des ballades paradisiaques se retrouvent dans notre woofer. C'est du beau blues rock! Qui inscrira ce groupe dans nos festivals ?..." Keys and Chords (Belgium)

All songs arranged by Phil Manca
Engineered by Yann Noel at MidiLive Studios
Mixed by Jean-Marc Hauser at Xplose Sound Lab
Mastered by Chris Danetz/Studio de la Relève
Produced by Phil Manca
© 2018 Tremolo Editions Production
℗ 2018 Tremolo Editions Productions/Xplose Music
See on CD back cover for publishers
Cover design - Mathilde Bouvelot
Video & photography - Giuliano Arguello
From his hard-rock roots in the early 80's (TNT) to his latest productions, Phil has always combined his talent as a guitarist and a song-writer.
While he has collaborated with many bands such as Sortilège (French metal band), Barbara Schenker, singer Renaud Hantson (Starmania/Tycoon), ERA's first album (6 million copies sold) and several film soundtracks ; he wrote and produced the rock-opera "Ypse" and the musical "Jack et le haricot magique" a successful rock musical for children inspired by the story of Jack and the beanstalk.
Today he's back to his musical roots, the music for what the electric guitar was created. Back to the blues!
PHIL MANCA "SIGNS" ALBUM CD/DIGITAL FORMAT LINKS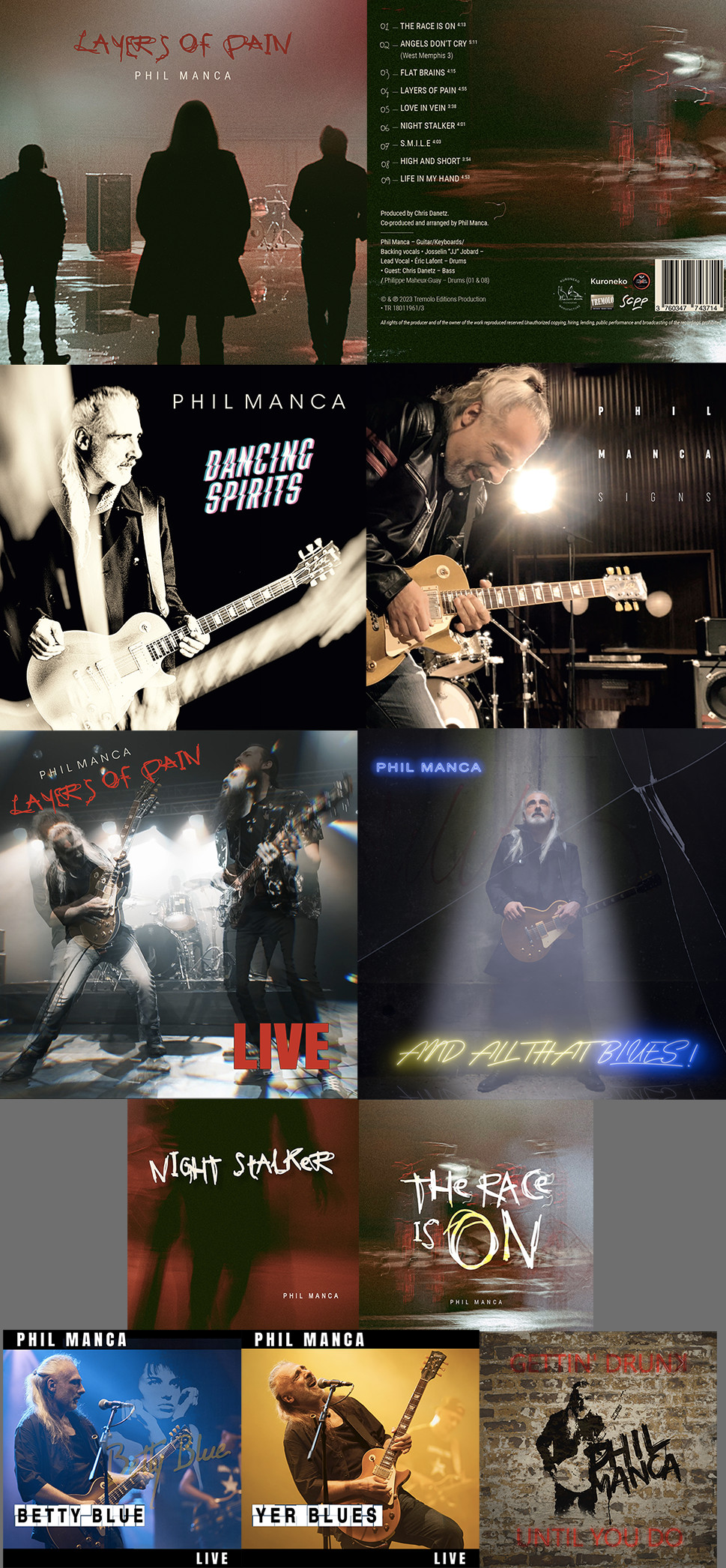 PHIL MANCA "SIGNS" ALBUM CD/DIGITAL FORMAT LINKS