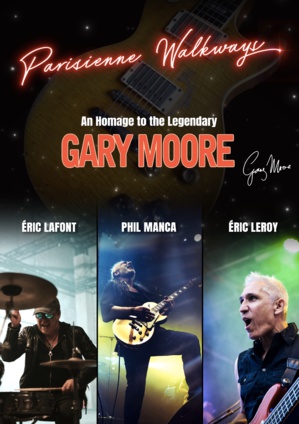 With lead guitarist
Philippe Manca ( ex ERA)
,
the
GMT
musicians
,
Josselin Jobard
(bass/vocals)
Michael Derocles
(keyboards) and
Freddy Derocles
(drums) join talents in a rare tribute honoring the Irish virtuoso guitarist
Gary Moore
.
Réunis autour du guitariste
Philippe Manca (ex-Era)
, les musiciens du
GMT
:
Josselin Jobard
(Basse/Chant lead),
Michael Derocles
(Claviers) et
Freddy Derocles
(Batterie) se sont associés pour rendre
enfin
un digne hommage au guitariste virtuose irlandais disparu en 2011.
Travel back in time through the career of this unique artist, with a high-powered show that oscillates between energy and emotion. Composed of two sets, the first features his
blues era
from the 90's to his passing in 2011, the second taking us back to the
rocking 70's.
Le show qui remonte le temps à travers la carrière de l'artiste -qui peut être séparé par un entracte - se décompose en 2 parties :
La première porte sur la
période blues
qui va des années 90 à la mort de l'artiste, la seconde sur la
période rock
qui remonte jusqu'aux années 70.
4 artists (Guitar, Bass/Vocals, Keyboards, Drums)
or/ou
6 artists (Guitar, Bass/Vocals, Keyboards, Drums + Sax & Trombone)
Song list/Répertoire :
The Strumble, Only fool in town, Too tired, Since I met you baby, Cold day in hell, Still got the blues, Parisienne walkways, Wishing well, Jailbreak, All your love, Don't believe a word, Shapes of things to come, Military man, Over the hills and far away, Midnight blues, Walking by myself, Separate ways, The boys are back in town, Fire, Stormy monday, Oh pretty woman, Out in the fields,, Thunder rising, The blues is alright, Thrill is gone...
TEASER VIDEO GMT
BIOGRAPHIE GARY MOORE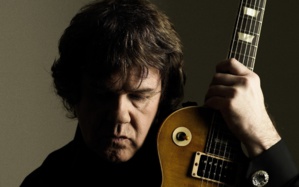 Born in Belfast in 1952, Gary Moore started playing with a recycled acoustic guitar at the age of 8. He was born left-handed but for an unknown reason learned how to play right-handed. In 1968 at the age of 16, he moved to Dublin right before the Northern Irish struggle.

Né à Belfast en 1952, Gary Moore commence à jouer à l'âge de 8 ans avec une guitare acoustique de récupération. Gaucher, pour d'obscures raisons il apprend à jouer en droitier et déménage à Dublin en 1968 à l'âge de 16 ans juste avant les débuts du conflit nord-irlandais.

He had a revelation when seeing Peter Green perform, Fleetwood Mac being a rock-blues band at the time. Before going schizophrenic, Green became his mentor and gave him his famous Gibson Les Paul « Lemon Burst ». While his first influences were Albert King, Elvis Presley, the Shadows and the Beatles, Gary Moore's style started taking shape after seeing Jimi Hendrix and Eric Clapton with John Mayall's Bluesbreakers.

Il a la révélation en voyant jouer Peter Green avec le groupe Fleetwood Mac (qui était un groupe de blues-rock à ses débuts). Green deviendra son mentor et plus tard il cédera même sa fameuse Gibson Les Paul Lemonburst à Gary (avant de sombrer définitivement dans la schizophrénie). Même si ses premières influences furent des artistes comme Albert King, Elvis Presley, les Shadows ou les Beatles, le style de Moore prendra vraiment forme après qu'il ait vu sur scène Jimi Hendrix et Eric Clapton avec les Bluesbreakers de John Mayall.

Still living in Dublin, he joined Phil Lynott's band "Skidrow" and started earning a reputation in the music industry. In 1970, Moore moved to England and collaborated on many eclectic musical projects: jazz fusion (Colosseum II), classical and rock fusion (Andrew Lloyd Weber), progressive rock (Gary Moore band) and hard-rock with his mate Phil Lynott (Thin Lizzy).

Toujours à Dublin, il rejoint le groupe de Phil Lynott, Skidrow, qui marquera le début de son essor dans l'industrie de la musique. Il prend ensuite la direction de l'Angleterre en 1970 et participe à une multitude de projets musicaux très éclectiques : jazz fusion (Colosseum II), classique et rock fusion (Andrew Lloyd Weber), jazz progressive rock (Gary Moore Band) ou hard rock "stylisé" avec Thin Lizzy, le nouveau groupe de son compère des débuts, Phil Lynott.

His solo career kick-started with the single « Parisian walkways » (recorded with Phil lynott) reaching the UK Top Ten charts, a song that would remain his trademark until the end of his life. The famous album "Wild Frontier" with songs influenced by his Irish background (Over the Hills and Far Away) will be just one of a series of successful rock records.

Sa carrière solo démarre réellement en 1979 lorsqu'il enregistre (encore avec Phil Lynott) le single Parisienne Walkways qui atteindra le Top Ten et qu'il jouera inlassablement jusqu'au bout de sa carrière. S'en suivront ensuite plusieurs albums plus heavy, dont le fameux Wild Fontier qui comporte plusieurs titres très influencés par le folklore de son pays d'origine dont le hit Over the hills and far away.

Gary returned to Blues music in 1990, also marking the beginning of his international career as a bluesman. The "Still Got the Blues" album with contributions from Albert Collins, Albert King and George Harrison was a huge international success and was certified gold in the US.

1990 sera l'année du retour aux sources et paradoxalement du renouveau pour Gary avec le début de sa grande carrière de bluesman ; la sortie de Still got the blues avec les contributions d'Albert Collins, Albert King et George Harrison sera un grand succès mondial et l'album deviendra disque d'or au USA.

Even though he later on experimented with different musical directions, the Gary Moore style will forever be recognized by fans around the world. His unique guitar sound filled with endless energy and emotion has ranked him among the best "guitar-heroes" of the rock pantheon for eternity.

Même si par la suite il se prêtera à nouveau à de multiples expériences musicales, depuis cette année et jusqu'à sa mort en 2011, pour le bonheur de milliers de fans à travers le monde, Gary Moore jouera, avec ce son, cette énergie et cette émotion dont il a le secret, ce blues unique qu'il l'a installé à tout jamais dans le panthéon très fermé des véritables "guitar-heroes".
Vidéo - Parisienne Walkways - Live